Gemeinsam stark mit dem pme Familienservice
Gemeinsam stark: mit dem pme Familienservice!
Ohne ihre engagierten Teammitglieder läuft manches nicht - mit diesen jedoch einiges um so viel besser. Manchmal mehr als überhaupt zu erwarten gewesen wäre?!
Beschäftigte sind im Unternehmen die größte und wichtigste Ressource. Das haben viele Arbeitgeber erkannt und investieren in Mitarbeiterprogramme, die die Motivation stärken und die Gesundheit fördern sollen.
Ihre Mitarbeiter*innen zu stärken für mehr Erfolg und Zufriedenheit im Berufs- und Privatleben – das ist die Aufgabe, die wir uns vor mehr als 30 Jahren gestellt haben und die uns bis heute begeistert!
Was unsere Geschaeftspartner begeistert
Was unsere Kunden begeistert
Sissy Tongendorff, Head of Diversity and Inclusion & Lead audit berufundfamilie bei capgemini, ist eine unserer Ansprechpartnerinnen und spricht über die Besonderheiten in ihrer Zusammenarbeit mit dem pme Familienservice.
pme als Innovationstreiber - immer am Puls der Zeit schaffen wir Lösungen für die Zukunft und die sich verändernde Arbeitswelt
pme als Kooperationspartner - zuverlässig und professionell arbeiten wir Hand in Hand mit unseren Auftraggebern
pme als Krisenmanager - wir passen unsere Angebote schnell und flexibel an die jeweiligen Bedarfe an, so wie es die Lage gerade erfordert
This Vimeo content is not allowed to be displayed.You have to accept the Privacy Policy of Vimeo, LLC.
To privacy settings »
pme mal anders - ob Tierfreund oder Yoga-Star: wir verleihen dem Berufsalltag einen persönlichen und authentischen Touch mit unseren diversen Teammitgliedern - und bilden neue Communities
Was unsere Nutzer begeistert
Was unsere Nutzer begeistert
Das (Berufs-)Leben steckt voller Herausforderungen. Ob im Job oder zu Hause, oft müssen Menschen vieles gleichzeitig meistern, womit sie an ihre Grenzen kommen können.
Wir, der pme Familienservice, unterstützen Sie! Für jede Lebenssituation suchen wir nach der passenden Lösung.
This Vimeo content is not allowed to be displayed.You have to accept the Privacy Policy of Vimeo, LLC.
To privacy settings »
Ihre Zufriedenheit macht uns stolz! Danke für die große Begeisterung unserer Nutzer*innen bei capgemini!
Was andere Nutzer*innen an uns schätzen: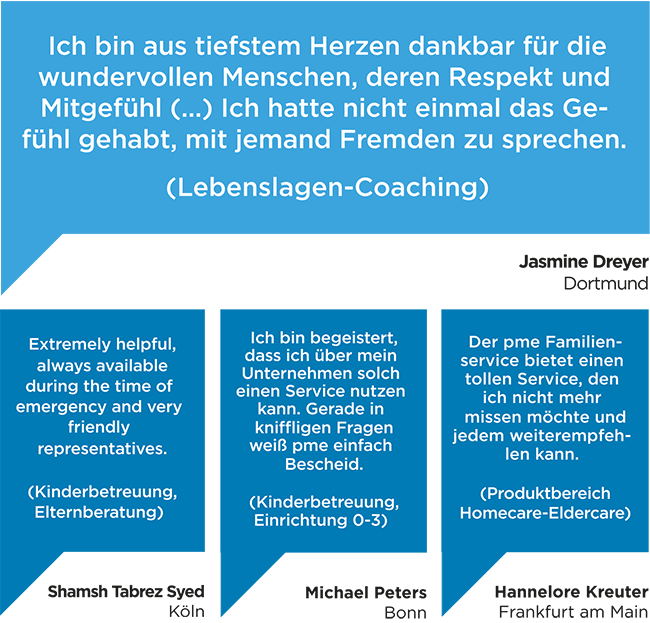 Was uns begeistert
97,6 Prozent unserer pme Beschäftigten sind mit uns als ihrem Arbeitgeber zufrieden. Das schaffen wir auch in ihrem Unternehmen. Gemeinsam stärken wir ihre Arbeitgebermarke!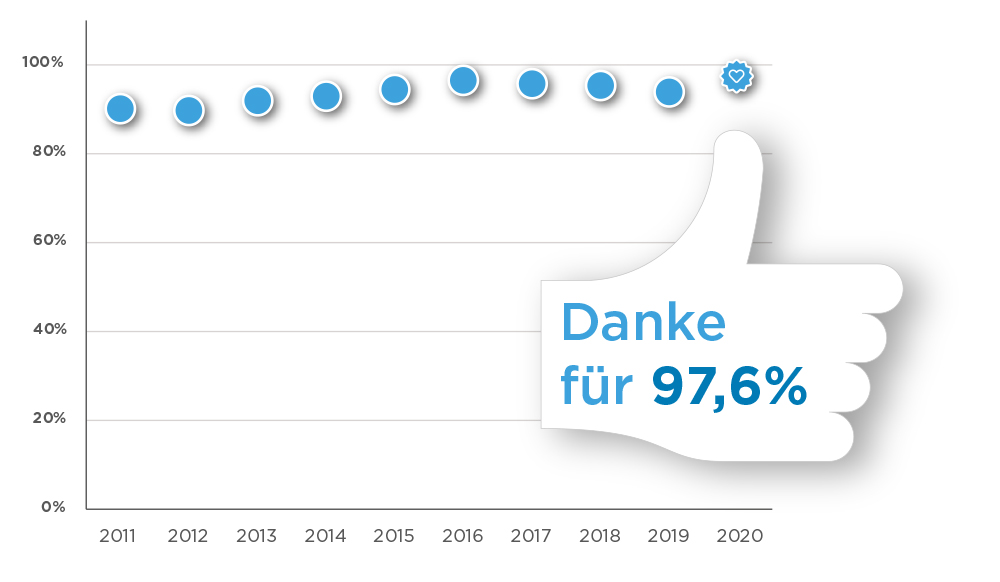 Erini hat ihre Leidenschaft gefunden. Sie erzählt über ihren Job als Erzieherin in der pme Kita in der Region Stuttgart.
Erfahren Sie mehr über uns!
Kontakt Josephin Hartmann