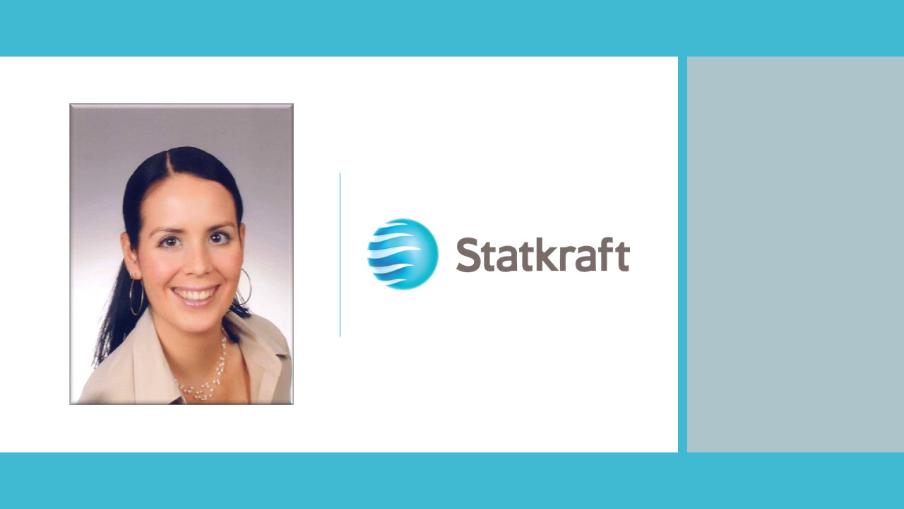 Im Interview berichtet Heike Maetz, HR Business Partner bei Statkraft, welche Veränderungen sie in den letzten Monaten in ihrer Organisation beobachten konnte, worauf es künftig in der Zusammenarbeit ankommen wird und was sie sich dafür nach Corona wünscht. Als Europas größter Erzeuger von erneuerbarer Energie beschäftigt Statkraft 4.600 Mitarbeiter:innen in 18 Ländern. Rund 480 Beschäftigte arbeiten in den Büros und Kraftwerken in Deutschland.
Wir befinden uns in einer Phase der Offenheit und eines extremen Wandels der Arbeitswelt. Wie hat sich Ihr Team in den letzten Monaten verändert? Was haben Sie beobachtet?
Heike Maetz: Statkraft hat sich sehr schnell auf die veränderten Rahmenbedingungen eingestellt und dabei sehr mitarbeiterorientiert agiert. Dies spiegelt sich auch in den Ergebnissen der aktuellen internen Mitarbeiter:innenbefragungen wider. Die Mitarbeiter:innen sind weiterhin insgesamt sehr zufrieden, sie haben die nötigen Tools und Ressourcen zur Verfügung, um ihre Arbeit zu erledigen, und auch die interne Unternehmenskommunikation wird positiv bewertet. Gleichzeitig gibt es Bereiche, die besondere Aufmerksamkeit erfordern, wie das Zusammengehörigkeitsgefühl und die Gemeinschaft unter Kolleg:innen. Dies sind zentrale Aspekte unserer Unternehmenskultur, die in der aktuellen Situation auf besondere Art und Weise gefördert werden müssen.
Hinsichtlich Gesundheit und Work-Life-Balance stellen wir fest, dass manche Beschäftigte durch die verstärkte Home-Office-Situation einen positiven Effekt bemerken, gleichzeitig gibt es andere, die eine gewisse emotionale, physische oder mentale Erschöpfung feststellen, z. B. durch die geringere Abgrenzung zwischen privatem und beruflichem Leben. Die Gesundheit unserer Beschäftigten liegt uns sehr am Herzen, daher haben wir während der Pandemie verschiedenste Initiativen ergriffen, um die physische und mentale Gesundheit unserer Mitarbeiter:innen zu fördern. Beispielsweise haben wir als Organisation diverse Webinare zu dem Thema angeboten, u. a. in Kooperation mit dem pme Familienservice, ein "Health & Wellbeing"-Paket an unsere Mitarbeiter:innen geschickt und virtuelle Get-togethers wie das Christmas Dinner Wine & Dine organisiert. Dies wurde und wird von unseren Mitarbeiter:innen sehr geschätzt, verbunden mit dem Wunsch, dass es so fortgesetzt wird.
Was braucht Ihr Team, um für die Post-Corona-Zeit gut aufgestellt zu sein?
Heike Maetz: Zunächst stellt sich die Frage, ob und wann es eine klare Post-Corona-Zeit geben wird. Es ist recht wahrscheinlich, dass die Situation noch länger dynamisch bleiben wird und wir jeweils schauen müssen, wie wir dies bestmöglich gestalten. Das Thema "new ways of working" steht hierbei natürlich im Mittelpunkt, und wir sind im Prozess, neue Guidelines für hybride Arbeitsformen zu gestalten und umzusetzen. Was brauchen unsere Mitarbeiter:innen, um sich am Arbeitsplatz wohlzufühlen? Was ist der richtige Mix aus physischen und virtuellen Meetings? Wie oft sollten Beschäftigte im Office präsent sein? Eine wichtige Rolle spielt dabei auch die künftige Gestaltung unserer Büroräume, einschließlich verschiedener Arten von Arbeitsbereichen für Teamarbeit, Austausch und konzentriertes Arbeiten.
Viele Mitarbeiter:innen weisen auf die Vorteile der Flexibilität hin und würden sich für die Zukunft gerne auf eine hybridere Arbeit einstellen. Andere haben Sorge, dass eine Erhöhung der Flexibilität die Häufigkeit und Qualität des beruflichen und zwischenmenschlichen Austauschs an den Statkraft-Standorten verringert. Daher ist es wichtig, Flexibilität in der richtigen Balance mit Stabilität und Verbundenheit zu ermöglichen. Mit einer starken Bindung, solidem Vertrauen, wertstiftenden Erlebnissen und klar definierten Zielen als Fundament kann man Mitarbeiter:innen dann in einem gewissen Rahmen auch laufen lassen. Wichtig ist eine Art "glue" zu schaffen, was sich auch auf die Führungsaufgabe auswirken wird.
Welche Maßnahmen oder Methoden haben geholfen, um zu erkennen, was Ihr Team künftig für die Zusammenarbeit braucht?
Heike Maetz: Zusätzlich zu unserer jährlichen Mitarbeiterbefragung haben wir in den letzten Monaten mehrere "Pulse Surveys" durchgeführt, um besser zu verstehen, wie es unseren Beschäftigten geht, was ihre Bedürfnisse sind, und welche Ideen oder Anregungen sie haben. Ziel ist es jeweils gewesen, Einblicke in zentrale Fragen rund um die Themen Arbeit und Wohlbefinden zu gewinnen, einschließlich Fragen zur Zukunft der Arbeit. Darüber hinaus spielt der direkte Austausch eine wesentliche Rolle, innerhalb von einzelnen Teams, zwischen Mitarbeiter:innen und Führungskräften, in Management Meetings, mit HR und der Geschäftsführung. Wichtig ist der vertrauensvolle Austausch und natürlich eine Abwägung, was praktikabel, umsetzbar und förderlich ist. Darüber hinaus haben wir eine Taskforce für "new ways of working" gebildet und stützen uns in der Planung für weitere Maßnahmen auch auf die Lernerfahrungen der vergangenen Monate.
Welche Herausforderungen haben Führungskräfte in der aktuellen Zeit?
Heike Maetz: Es freut uns, dass die Mehrheit unserer Beschäftigten die Unterstützung, die sie von ihrem direkten Vorgesetzten während der Pandemie erhalten haben – und auch weiterhin erhalten –, positiv bewerten. Gleichzeitig gibt es vielfältige Herausforderungen. Insbesondere die virtuelle Einarbeitung neuer Mitarbeiter:innen ist nicht immer einfach und erfordert mehr direkte Aufmerksamkeit.
Zudem kann es für Führungskräfte teilweise schwieriger sein, einzuschätzen, wie es ihren Mitarbeiter:innen wirklich geht und in welcher Situation sie sich zu bestimmten Zeitpunkten befinden. In diesem Zusammenhang gewinnen die Beziehungsebene sowie eine individuelle und situationsgerechte Führung an Bedeutung. Darüber hinaus stellt sich die Frage, wie Führungskräfte am besten mit der Spannbreite umgehen, dass die Arbeitszufriedenheit einiger Mitarbeiter:innen im Home-Office abgenommen und bei anderen zugenommen hat. Wie können sie das Bedürfnis nach Zugehörigkeit, sozialen Beziehungen und persönlichem Networking positiv fördern, während andere Beschäftigte vielleicht weniger soziale Kontakte brauchen oder sich von Kolleg:innen am Arbeitsplatz abgelenkt fühlen?
In diesem Zusammenhang gewinnen Empathie, Motivationsfähigkeit und Kommunikation noch mehr an Bedeutung. Über die soziale Komponente hinaus sind Führungskräfte natürlich weiterhin für die Produktivität ihres Bereichs und das Erreichen der Ziele verantwortlich. Im Kontext von Remote-Leadership spielen insbesondere Aspekte wie aufgabenorientiertes Führen sowie eine befähigende Führungsweise eine immer wichtigere Rolle. Für HR stellt sich konsequenterweise die Frage, wie wir unsere Führungskräfte noch besser in dieser Aufgabe unterstützen können, beispielsweise über Leadership Bootcamps, die wir in den letzten Monaten schon durchgeführt haben.
Was sind Ihre 3 Wünsche für die Zusammenarbeit nach Corona?
Heike Maetz: Unsere Unternehmenskultur ist geprägt von Vertrauen, Kollaboration und einem guten Team-Spirit. Dabei wird die Präsenz im Büro weiterhin die wichtigste Arena für soziale Kontakte und Networking sein. Dies möchten wir aufrechterhalten bzw. weiter fördern. Entsprechend unseres Leitbilds "Powered by Care" ist es uns zudem sehr wichtig, dass es unseren Mitarbeiter:innen physisch und mental gutgeht. Durch die Corona-Pandemie ist insbesondere das Thema mentale Gesundheit noch stärker in den Vordergrund gerückt, was gleichzeitig eine Chance für die Zukunft sein kann. Und nicht zuletzt wünschen wir uns, dass wir weiterhin ein hohes Mitarbeiterengagement haben und sich unsere Beschäftigten positiv an unser Unternehmen gebunden fühlen.

Heike Maetz, HR Business Partner bei Statkraft Markets GmbH, u.a. verantwortlich für das Employee Assistance Program, Systemischer Personal & Business Coach
Das könnte Sie auch interessieren
Teamentwicklung: "Gute Leute verlassen träge Teams"
Dicke Luft im Büro: Wie Sie Konflikte im Team lösen
Fünf Tipps, wie Sie ein hybrides Team führen

Über Statkraft
Statkraft ist international führend in Wasserkraft und Europas größter Erzeuger von erneuerbarer Energie. Der Konzern erzeugt Strom aus Wasser, Wind, Sonne und Gas, liefert Fernwärme und ist weltweit ein bedeutender Akteur im Energiehandel. Statkraft beschäftigt 4.600 Mitarbeiter:innen in 18 Ländern. Seit 2019 nutzt Statkraft die Work-Life-Balance-Angebote des pme Familienservices, um seine Mitarbeiter:innen zu unterstützen.
pme Familienservice Gruppe – Ihr Work:Life-Pionier seit 1991
Im Auftrag von mehr als 1400 Arbeitgebern unterstützt die pme Familienservice Gruppe Beschäftigte, Beruf und Privatleben gelingend zu vereinbaren und mit freiem Kopf arbeiten zu können.
Die pme Familienservice Gruppe steht Berufstätigen bei Krisen zur Seite, z.B. bei Konflikten am Arbeitsplatz, Sucht- oder Partnerschaftsproblemen. Mit einem Homecare-Eldercare-Service entlastet sie Berufstätige bei der Organisation und Finanzierung von Pflegedienstleistungen und bietet psychosoziale Unterstützung. Im Rahmen der pme Akademie werden Seminare, Workshops und Coachings zum Themenkomplex Personalführung und Personalentwicklung angeboten.
Mehr über die pme Familienservice Gruppe erfahren Sie hier.