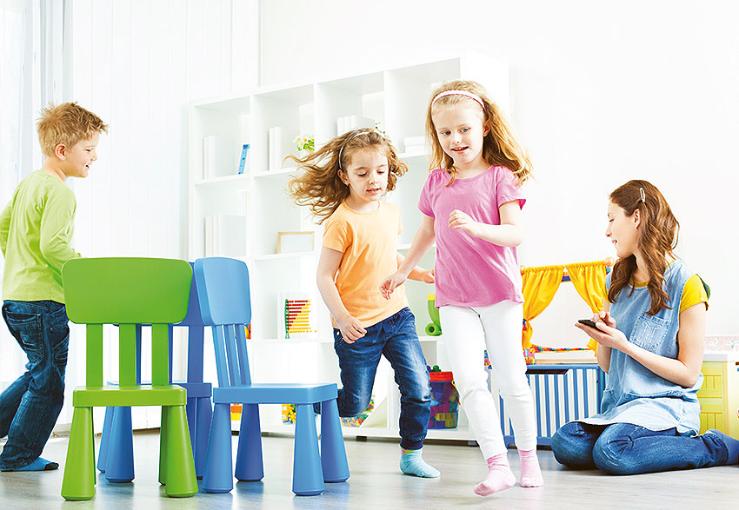 Auf der Basis von 10 vertiefenden Fallstudien – in Afrika, Asien, Nord Amerika und Europa – und einer Analyse wissenschaftlicher Untersuchungen der wirtschaftlichen Effekte zeigt der Bericht "The Business Case for Employer-Supported Childcare" wie Unternehmen weltweit von der Unterstützung ihrer Beschäftigten bei Kinderbetreuung profitieren können. Die Fallstudien belegen substantielle positive Wirkungen bei (IFC, 2017: 21-40)
der Personalgewinnung: da die Qualität der Bewerbungen deutlich steigt während es gleichzeitig für Unternehmen mit speziellen Arbeitszeit- bzw. Arbeitsortanforderungen deutlich leichter ist qualifiziertes Personal zu rekrutieren. Im Falle der Schön-Kliniken – ein Kunde der pme Familienservice Gruppe – ist die betriebliche Kinderbetreuung ein zentraler Faktor für die Gewinnung medizinischen Personals.
der Produktivität: da die Zahl der Abwesenheiten sinkt und die Motivation und der Fokus der beschäftigten nach eigenen Angaben steigt. So sank in zwei Fallbeispielen die Zahl der krankeitsbedingten Abwesenheiten nach Eröffnung einer betrieblichen Kinderbetreuungseinrichtung um 9 Prozent.
der Vielfalt der Belegschaft: da gerade in Führungspositionen ohne umfangreiche und zeitliche flexible Kinderbetreuungsangebote der Anteil von Frauen stark unterrepräsentiert bleibt.
dem Unternehmensimage: da gerade in Ländern, die nicht über ein gut ausgebautes Kinderbetreuungsangebot verfügen, der Ruf als "Arbeitgeber der Wahl" und als verlässlicher Partner für Investoren steigt, wenn Unternehmen ihre Mitarbeiterinnen und Mitarbeiter bei der Betreuung Ihrer Kinder unterstützen.
Der Bericht beschränkt sich allerdings nicht nur auf eine Darstellung der wirtschaftlichen Vorteile sondern er enthält auch detaillierte Anleitungen für die Entwicklung einer nachhaltigen Kinderbetreuungsstrategie für jedes Unternehmen. Dabei müssen sowohl die Bedürfnisse der Arbeitnehmer, die Ziele der Arbeitgeber und der gesellschaftliche Kontext möglichst erfasst werden um in der Folge die passenden Betreuungslösungen für die Beschäftigten des Unternehmens bereitstellen zu können.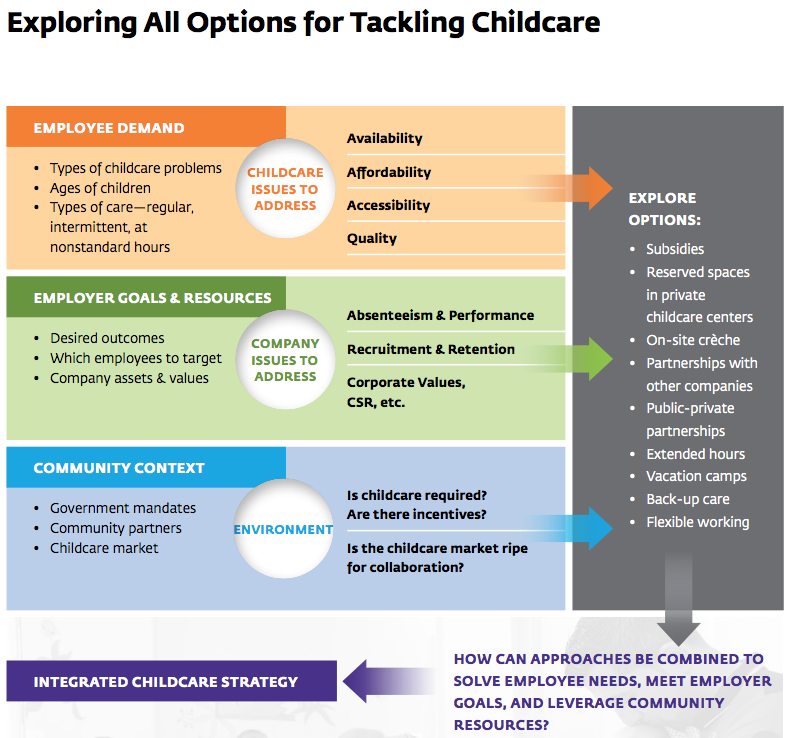 Je nach Kontext und Bedarf können Unternehmen eine Vielzahl von Unterstützungsangeboten bereitstellen, wobei einige Maßnahmen mit relativ wenig finanziellem Aufwand verbunden sind, während andere Lösungen wesentlich mehr und oftmals dauerhafte Kosten verursachen.
Eine detaillierte Analyse der betriebswirtschaftlichen Kosten und Nutzen einer betrieblichen Kinderbetreuungseinrichtung liefert die "Evaluationsstudie Modellprojekt Kids & Co. – Kindertagesstätte" welche von der Frankfurter Agentur für Innovation und Forschung (FAIF) und der Prognos AG im Auftrag der Commerzbank AG durchgeführt wurde.
Die Betreuung von 90 Kindern in der Kita kostete die Commerzbank zum Untersuchungszeitpunkt (2007) 571.000 Euro pro Jahr. Im Gegenzug zeigte sich, dass
Eltern dem Unternehmen schneller und mit höheren Stundenkontingenten wieder zur Verfügung standen. Bereits nach 20 Monaten arbeiteten 29% der Eltern wieder Vollzeit, Teilzeitrückkehrer/-innen arbeiteten durchschnittlich 25,6 Stunden.
aufgrund der zügigen Rückkehr der Eltern in das Unternehmen (2004: 30,6 Monate Elternzeit, 2007: 19,3 Monate Elternzeit) der Fortbildungsaufwand geringer ausfiel.
die familienbedingten Fehlzeiten durchschnittlich um 4,5 Tage pro Familie/Jahr verringert wurden.
die Arbeitgeberattraktivität stieg, die Fluktuation von Eltern reduziert wurde und damit der Rekrutierungsaufwand gesenkt werden konnte.

Diese positiven Effekte führten insgesamt zu jährlichen Kosteneinsparungen von 702.000 Euro. Durch den Betrieb der Einrichtung spart das Unternehmen somit jährlich ca. 131.000 Euro, was einem Return on Investment von ca. 23 Prozent entspricht.

Quellen:
International Finance Corporation (2017), The Business Case for Employer-Supported Childcare, Member of the World Bank Group
FAIF und Prognos AG (2009), Evaluationsstudie Modellprojekt Kids & Co. – Kindertagesstätte, im Auftrag der Commerzbank AG
Erler, D. (2017), Der wirtschaftliche Nutzen von Mitarbeiterunterstützung (EAP), pme Familienservice Gruppe.