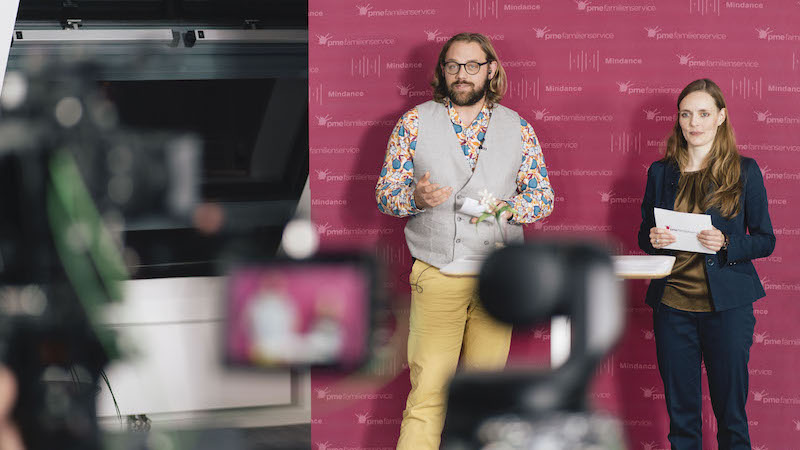 Digitale Gesundheitsnacht für Beschäftigte – Beat the Blues 2021
Unter dem Motto "Beat the Blues! Energie tanken im New Normal" sorgten unter anderem die Top-Speaker Herbert Renz-Polster, Thea Dorn und Kelechi Onyele für den mentalen Power-Boost. Live-Musik und abwechslungsreiche Mitmach-Sessions für Körper und Seele sorgten darüber hinaus für gute Laune und Entspannung bei den über 1000 Teilnehmer:innen an den Bildschirmen. Jetzt können wir dem langen Winter voller Tatendrang und mit neuer Energie ruhig entgegenblicken.
Gesund durch die Nacht: Das war Beat the Blues 2021
Nichts hellts den Herbst so schnell auf wie gute Musik: Der Pianist Florian Geibel eröffnete den Abend mit zwei großartigen Coverversionen von U2 und Adele - eine Ohrenweide! Im Anschlluss lieferte Kinderarzt und Buchautor Herbert Renz-Polster den Auftakt zu einem denkwürdigen Abend voller spannender Beiträge rund um das Thema mentale Gesundheit im New Normal.
In seinem Vortrag "Kinder stärken nach der Pandemie" sprach er darüber, was Kinder jetzt nach der belastenden Zeit der Pandemie brauchen. Einige zentrale Aussagen aus seinem Vortrag: Kinder bräuchten jetzt viel Gelegenheit für freies Gestalten und Spielen, Sport und Abenteuer. Ein Fehler wäre es jetzt, bei Kindern in schulischer Hinsicht ganz viel aufholen zu wollen. Stattdessen gelte es, die Kinder wieder "von unten aufzubauen", ihnen zu einem Fundament zu verhelfen. Sein Appell an Schulen: Jetzt sei die Zeit für Aktivitäten, die die Klassen zusammenschweißen und den Kindern Gelegenheit geben, sich wieder kennenzulernen. Denn um lernen zu können, bräuchten Kinder "ein Leuchten in den Augen", so der Experte.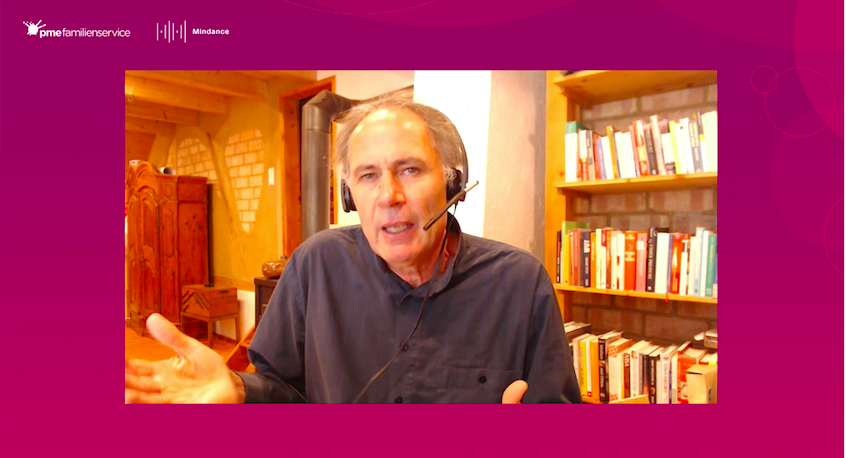 Herbert Renz-Polster erläutert, was Kinder nach der Pandemie brauchen.
Thea Dorn: Das tröstet uns in schwierigen Zeiten!
Moderator Danny Mann sprach anschließend mit Philosophin und Schriftstellerin Thea Dorn über ihren neuen Roman "Trost: Briefe an Max" und darüber, wie wir Menschen mit tragischen Situationen und extremen Emotionen umgehen können. Sie sprach über die wichtige Frage: "Was tröstet uns in schwierigen Zeiten?" und erläuterte, dass es vor allem darum gehe, zuzuhören und zu zeigen "Ich bin da, du bist nicht alleine". Das ginge aber nur, wenn die unglückliche Person bereit sei, sich trösten zu lassen. Um getröstet werden zu können, müsse man das Schicksal annehmen. Das Gespräch bot viele weitere interessante Impulse, unter anderem die Frage, ob Krisen wie die Corona-Pandemie auch positive Seiten hätten, oder warum die heutige Generation verängstigter sei als Generationen vor uns, die es viel schwerer hatten.

Nach diesem gewichtigen Thema lud Musikpädagoge Gerd Weigelt mit einer schwungvollen Body-Percussion zum Mitmachen ein und sorgte so für neuen Schwung und gute Laune.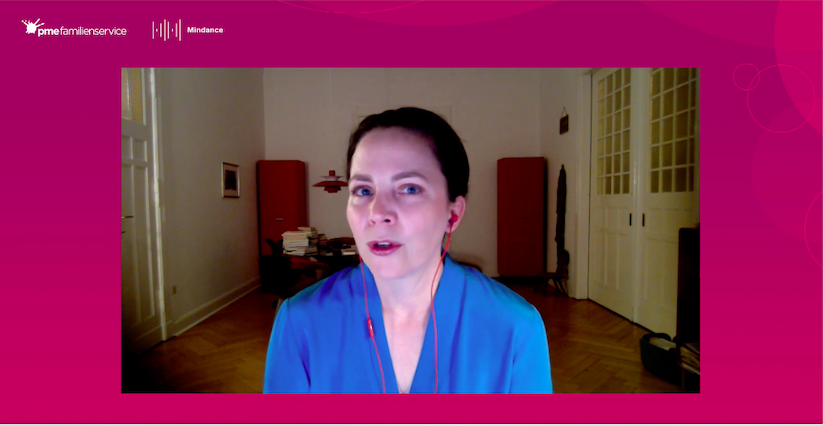 Thea Dorn redet über Trost in schweren Zeiten.
Tipps von der Glückscoachin: Dort finden Sie das Glück!
Glückcoachin Lynn Mann zeigte anschließend, wie jede:r Einzelne an seinem eigenen Glück arbeiten kann. Beispiel Kuchen: Wenn es heute das große Stück Schokoladenkuchen sein muss, dann kasteien Sie sich nicht dafür! Im Gegenteil: Zelebrieren Sie es! Machen Sie es zu einem Erlebnis, wenn Sie den Kuchen essen! Fühle Sie sich gut dabei! Eine kleine Entscheidung, aber ein großer Schritt in Richtung Glück.
Essen, das glücklich macht, kommt aber natürlich nicht nur in Form von Kuchen oder Pizza daher. Ernährungsexperte Karl Selg-Mann zeigte in seiner Küche, wie man aus vielen leckeren Gemüsen, Obst und Hülsenfrüchten ganz einfach wirklich leckere "Vielfaltgläser" zaubern kann. Achtung: Schokonüsse sind erlaubt!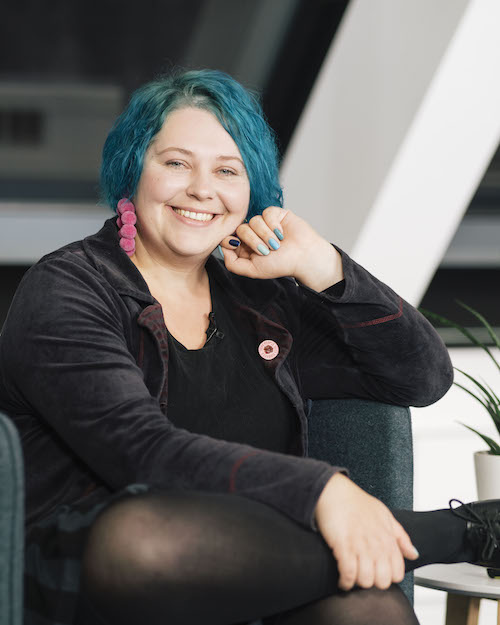 Glückcoachin Lynn Mann weiß, wo das Glück liegt.
Prof. Dr. Volker Nürnberg: Schalten Sie bewusst ab!
BGM-Papst Prof. Dr. Volker Nürnberg fasste gewohnt unterhaltsam die Risiken und Nebenwirkungen der hybriden Arbeitsweise zusammen. Seine dringende Empfehlung: Gönnen Sie sich immer wieder Pausen und schalten Sie die digitalen Medien ganz bewusst ab! "Sie können nur top performen, wenn sie auch Entspannungsphasen haben", so der Experte. Zentrale Stellschraube für mehr Wohlbefinden unter herausfordernden Bedingungen sind laut Nürnberg die Führungskräfte, denn 80 Prozent der Probleme, die uns in Unternehmen beschäftigen, sind zwischenmenschlich. Er plädiert ganz klar für die Schulung von Führungskräften in sozialer Kompetenz – Fachwissen allein reiche nicht aus, um Menschen zu führen!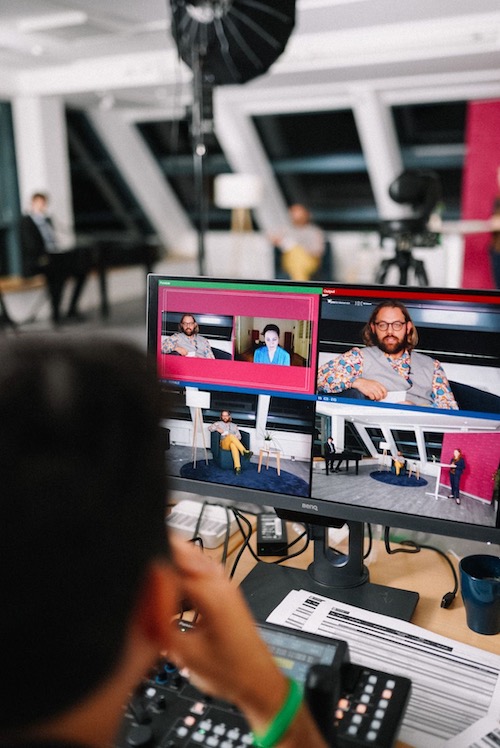 Blick aus der Regie: Moderator Danny Mann spricht mit Thea Dorn.
Kelechi Onyele: Verrücke dein Leben!
Ein weiteres Highlight des Abends: Mutmacher und DFB-Coach Kelechi Onyele erklärt hautnah, wie wir mutig durch schwierige Zeiten kommen. "Entscheide dich für dich! Verrücke dein Leben!", sagt Onyele. "Du hast die Pflicht, dich selbst glücklich zu machen. Geh raus, lächle. Geh auf Menschen zu. Das hilft dabei, happy zu sein." Ganz wichtig laut Onyele: Kommen Sie in Bewegung. Egal ob durch Tanzen, Sport etc. "Entscheide dich für Positivität und aktiviere deinen inneren Sound."
Einen wunderbaren Show Down mit einer 20 Minuten Wind-Down-Yoga-Session zum Mitmachen bereitete den Zuschauer:innen Yogalehrer Fjodor Kendzierski. Das tat richtig gut. Danke Fjodor und Namaste!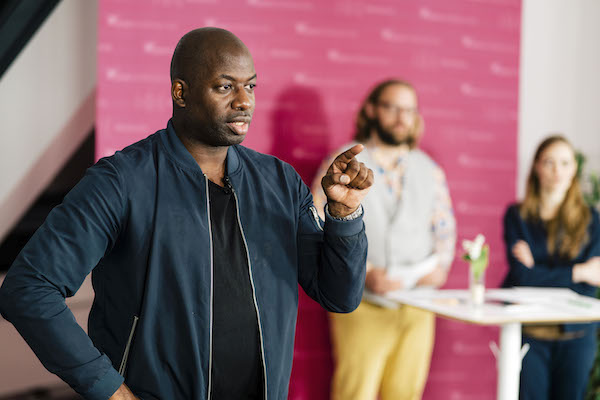 Kelechi Onyele macht Mut.

Sie konnten nicht dabei sein und wünschen weitere Informationen zu diesem Angebot für Ihre Mitarbeiter:innen? Kontaktieren Sie gerne Ihre/n pme-Geschäftskundenbetreuer:in und seien Sie beim nächsten Mal dabei!
Diese Artikel könnten Sie auch interessieren:
Thea Dorn: "In der Not nicht ganz verlassen sein."
Herbert Renz-Polster: Wie können wir Kinder jetzt stärken?
Mentale Gesundheit: Warum Arbeitgeber darauf achten sollten.
pme Familienservice – Ihr EAP-Pionier seit 1991
Im Auftrag von mehr als 1400 Arbeitgeber:innen unterstützt die pme Familienservice Gruppe Beschäftigte, Beruf und Privatleben gelingend zu vereinbaren und mit freiem Kopf arbeiten zu können.
Die pme Familienservice Gruppe steht Berufstätigen bei Krisen zur Seite, z.B. bei Konflikten am Arbeitsplatz, Sucht- oder Partnerschaftsproblemen. Mit einem Homecare-Eldercare-Service entlastet sie Berufstätige bei der Organisation und Finanzierung von Pflegedienstleistungen und bietet psychosoziale Unterstützung. Im Rahmen der pme Akademie werden Seminare, Workshops und Coachings zum Themenkomplex Personalführung und Personalentwicklung angeboten.

Mehr über die pme Familienservice Gruppe erfahren Sie hier: www.familienservice.de/wer-wir-sind